---
Making the switch to an electric vehicle is good for your wallet and the environment but like a lot of drivers you probably have questions about the Nissan Leaf battery and Nissan Leaf charger. This relatively new technology might intimidate some drivers but it shouldn't! Auffenberg Nissan has all the information on the Nissan Leaf battery, and how the Nissan Leaf battery pack will affect how you drive in Collinsville. For more information contact us — we love telling drivers what they can look forward to when they choose a Nissan Leaf!
Nissan Leaf Battery
The Nissan Leaf battery is not only a source of power, it's an agent of change that will make your commutes from Fairview Heights more eco-friendly and inexpensive. This is no ordinary car battery — the Nissan Leaf battery pack works in place of a conventional gasoline engine, making the Nissan Leaf 100 percent electric. Here are some things you need to know about the Nissan Leaf battery pack:
Nissan Leaf Battery Life
Another way that the Nissan Leaf battery is different than a regular car battery is you don't have to replace it as often. With current technology, you can expect to replace your lithium-ion Nissan Leaf battery every ten years or so, depending on your driving habits. Better yet, there's a Nissan Leaf battery warranty to diffuse costs should your Nissan Leaf battery not go the distance.
Nissan Leaf Battery Warranty
The Nissan Leaf battery warranty will keep you going on Granite City roads with coverage for eight years or 100,000 miles, whichever comes first. The Nissan Leaf battery warranty also covers your motor, inverter unit, VCM, reduction gear, DC/DC converter, onboard charger, onboard charger connector, and trickle charge cable.
Nissan Leaf Battery Replacement
If your Nissan Leaf battery should need replacement while it's under warranty, the parts department at Auffenberg Nissan offers the Nissan Leaf battery for sale. There's no need to go outside the Auffenberg Nissan area for a Nissan Leaf battery replacement. If your battery is under the Nissan Leaf battery warranty, we'll cover the replacement. If the warranty has expired, we'll help you find the Nissan Leaf battery for sale that you need.
Nissan Leaf Battery for Sale at Auffenberg Nissan
When it's time for a Nissan Leaf battery replacement, trust the service department at Auffenberg Nissan to do the work for you. We'll also walk you through finding a Nissan Leaf battery for sale.
Nissan Leaf Charging
Instead of pulling up to the gas pump in your Nissan Leaf, you'll get used to pulling up to a Nissan Leaf charger to power up for your errands and road trips. Here's some information about Nissan Leaf charging stations, and what you can expect from the Nissan Leaf charge time:
Nissan Leaf Charger
For at-home charging, Nissan has partnered with Amazon to make it simple to purchase a Nissan Leaf charger for home use. Amazon will walk you through scheduling an appointment with a certified electrician who can provide you with a safe, convenient, and affordable Nissan Leaf Charger through a 240V outlet. In a pinch, you don't even need a special Nissan Leaf charger — you can simply plug it into a conventional 120V outlet. While this is the slowest charging method, it can provide enough power to get you to a Nissan Leaf charging station.
Nissan Leaf Charging Station
There are currently tens of thousands of Nissan Leaf charging stations in the U.S., with the numbers growing every year. These public charging stations are the fastest way to get your Nissan Leaf battery up to its maximum charge. Nissan Energy Perks from EVgo® will make it even more affordable.
Nissan Leaf Charge Time
When you use a Nissan Leaf charger at home you can expect the standard 40 kWh battery to get a full charge in eight hours, which provides a driving range of around 149 miles. 62 kWh Nissan Leaf batteries will get a full charge in 11.5 hours and a driving range of 226 miles. You'll save a considerable amount of time if you opt for a Nissan Leaf charging station: the 40 kWh battery can charge to 80 percent in 40 minutes. The 64 kWh gets there in just 45 minutes.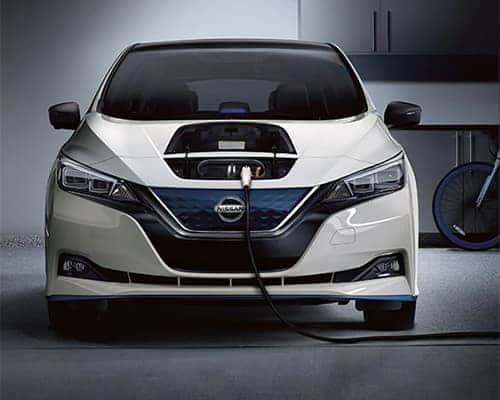 Go Green with the Nissan Leaf at Auffenberg Nissan!
Feel good about saving money when you make the switch to EV and choose a new Nissan Leaf from Auffenberg Nissan! Browse our Nissan Leaf inventory today, now that you have answers to your Nissan battery and charging questions!