How to Check Car Oil in O'Fallon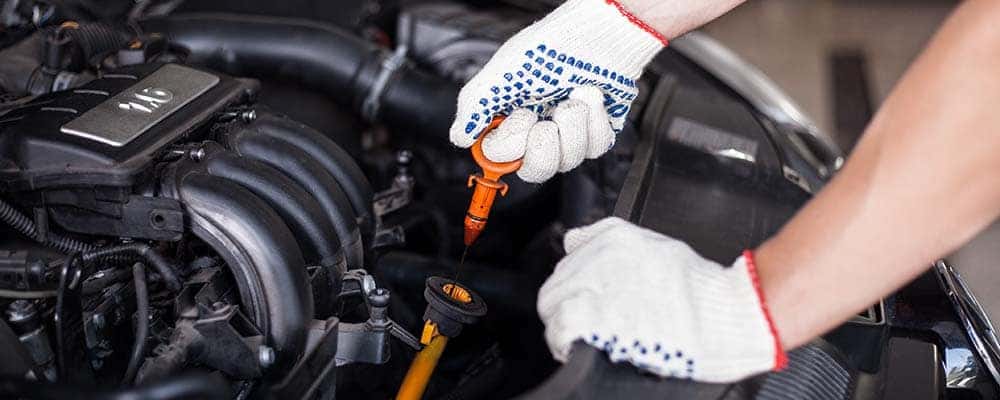 Oil helps to lubricate the engine parts, so they can move smoothly and work correctly as you drive around Lebanon. When left unchecked, car oil in your new Nissan or used vehicle gets dirty from debris — and if the levels are too low, it can lead to more serious damage. That's why it's important the regularly check your oil levels.
How do You Check Car Oil?
Luckily, checking car oil is a simple process. If you're asking yourself, "Should I check my oil when the engine is hot or cold?", the answer depends on the automaker. While it makes sense to check the oil while the engine is cold to avoid burns, some automakers recommend warming up the engine first — always check your manual!
To check your vehicle's oil:
Make sure your vehicle is on level ground and the engine is off.
Open the hood and locate the vehicle dipstick.
Pull out the dipstick, wipe off all oil, then put the dipstick all the way back in.
After a second or two, pull the dipstick back out and check the level.
There should be two indicators, such as pinholes, lines, or letters. If the oil is between the two indicators, your car oil level is fine. If it's below the bottom indicator, you'll need to add oil.
Check Car Oil Color
While you check the level, you also want to check the oil color, which should be black or brown. If it looks milky, it could mean that you have a coolant leak. If the oil looks gritty or dirty, it's time for an oil change.
Typically, oil should be changed every 3,000 – 5,000 miles for standard oil. Synthetic oils can last longer. It also depends on the type of vehicle and engine you have, so be sure to check your owner's manual.
Auffenberg Nissan Service Center Helps with Car Oil Needs
Whether you want to bring your car in for a professional oil change, or you are worried about a fluid leak, the certified technicians at the Auffenberg Nissan service center ready to assist you. Stop by today!
Auffenberg Nissan Service Specials
Learn More on Our Service Blog
Does it look like you have water leaking under your car? Most often, a car leaking water is a simple sign of condensation and not something to worry about. Read our quick guide to determine if your vehicle is experiencing condensation or if there is a more serious leak present. Questions? Feel free to stop…

Most people don't realize when they've locked their steering wheel until they try to drive somewhere. Are you having problems starting your vehicle? Does your key not turn in the ignition? It's possible your steering wheel has locked. Don't fret if you haven't experienced this before; it usually happens by accident and unlocking a steering…

Oil helps to lubricate the engine parts, so they can move smoothly and work correctly as you drive around Lebanon. When left unchecked, car oil in your new Nissan or used vehicle gets dirty from debris — and if the levels are too low, it can lead to more serious damage. That's why it's important…